A recommended read that will rock your military romance socks off!
Posted Mar 22 2018, 3:55 pm
Hello peeps, Jennifer Lowery here to rock your military romance socks off! My new release, Worth the Risk, Book #3 in my Wolff Securities Series, is available now for pre-order—Woot! It will release March 20th so get your orders in now! If you haven't read the first two books, no worries, these are standalone as well as part of a series—although I do hope you'll read them all 😉 The Wolff brothers are a tight-lipped bunch but I managed to get them talking long enough to write their books, lol, so the more support the better!
A friend and author asked me why the hero of this book had me falling in love with him. A great question and one I am happy to answer here for all of you. Kell Wolff, the hero of Worth the Risk, was one of the most forth-coming Wolff brothers, even if he didn't say much, lol. I knew from day one he was running—literally—from his past and the woman who tore his heart out. He was a fun mix of thrill-seeker and loyal, the one you wanted watching your six. He had kind of a warped sense of humor his brothers don't care for, but Kell gets a kick out of needling them. He was kind of dark, but not in a tall, dark and brooding way. More, haunted. And I'm a sucker for the strong, silent types. He did manage to surprise me at the end of the book—sorry, no spoilers here—and I was so touched I fell for him all over again. I enjoyed watching Kell come to life and I hope you do, too!
If you'd like to read Kell's story, click on this link: Amazon
If you would like to read the first two books, Maximum Risk and Not Without Risk please go to my website HERE for purchase links.
P.S. The first book in the series, Maximum Risk, is on sale for .99 cents for a limited time!
Blurb: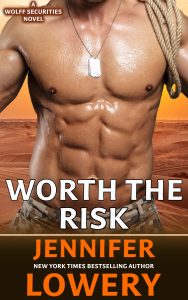 He's a risk-taker…
Private security specialist, Kell Wolff, lives life on the edge. Falling for CIA agent, Shea Morrissey, fit his risk-taking lifestyle. Until she walked away without as much as a goodbye. Now, four years later she's in trouble and needs his help, but the thought of seeing her again risks having his heart ripped out of his chest a second time. But Shea's agenda coincides with his own so he can't say no.
She's the biggest risk of all…
Shea Morrissey has gone off the grid in pursuit of the man responsible for the death of her sister. Determined to take Ramil Diakameli down, she's given up everything. Including the man she loved. Now, she's in danger, her mission in jeopardy and the only person she can trust to help her is the man she walked away from. In order to survive, she and Kell must fight side by side and put their past to rest so they can work together.
Excerpt:
Copyright ©2018 by Jennifer Lowery
     Suddenly more gunshots rang out. Men started falling around them. Kell pulled his K-Bar out of the chest of one man and let him crumple to the ground. Their saviors in robes and sandals advanced on them, bleeding and battered, but alive.
            He turned to see more villagers behind them. They looked terrified, shocked.
            But it was Shea who he ran to. Blood covered her from head to toe. Or so it seemed to his addled brain. He couldn't think straight. Could barely stand. Something was wrong with his legs.
            He watched Shea crumple to the ground and reached out to catch her. He did, but his strength had sapped away and he dropped to his knees, Shea in his arms. He stared down at her white face, willing her to open her eyes. But, she didn't.
            Terrified he'd lost her he pulled her to his chest and toppled over as everything went black around him.
Author Bio:
New York Times & USA Today Bestselling Author Jennifer Lowery is a romantic at heart. She believes that happily ever after is only the beginning of her stories. And the road to that happy ending is paved with action, adventure, and romance.
She debuted her first book in 2012 which made her dreams of being a writer come true, followed with her SEAL Team Alpha series and loves her job as much today as she did then. She is delighted to bring you stories from the heart and hopes you enjoy reading them as much as she did writing them.
Connect with Jennifer:
Read more about her books on her website: https://jenniferloweryauthor.com/
Join her on Pinterest: https://www.pinterest.com/jenniferlowery/
And on Twitter: https://twitter.com/JLoweryauthor
Please "like" her Facebook author page! https://www.facebook.com/AuthorJenniferLowery/
Sign up on her website with your email and never miss another update from Jennifer: https://jenniferloweryauthor.com/
Join Jennifer's Street Team: https://jenniferloweryauthor.com/
Join her on Google+: https://plus.google.com/+JenniferLoweryauthor
And Linkedin: https://www.linkedin.com/in/jenniferloweryauthor/
Follow on Instagram: https://www.instagram.com/jenniferloweryauthor/
Follow on BookBub: https://www.bookbub.com/authors/jennifer-lowery
Follow on Goodreads: https://www.goodreads.com/JenniferLowery
Love my books? Want to receive news, releases, giveaways, and more directly to your inbox? No spam, just the info you want to know!
Sign up with your email today and don't miss out on news from me!
https://jenniferloweryauthor.com
Thank you for having me today, Trisha McCallan!! I just want to send out a big THANK YOU to all my readers out there! Without you I wouldn't be here. My wish is to one-day meet each and every one of you so I can personally thank you for your generosity and support! 
All my best, 
Jennifer
1 Comment