Forged in Ember is LIVE!!
Posted May 15 2018, 8:08 pm
It seems like it's taken forever, but the day has finally arrived—Forged in Ember, the long-awaited conclusion to the Red-Hot SEALs series, is finally available!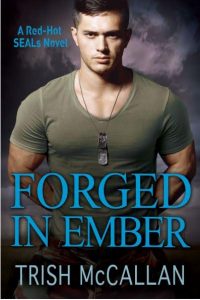 BUY NOW HERE: 

If you haven't had a chance to read the blurb, check it out!
In the final novel in the scorching Red-Hot SEALs series, a desperate mother and a Navy SEAL fight fire with fire to protect their love and save the world…
Amy Chastain has made a lot of enemies—none so ruthless as the insanely powerful New Ruling Order (NRO). When they killed her husband, it was hell. Then they targeted her children by injecting them with a dangerous, experimental isotope. Now Amy trusts only one man to help her: the ex-commander of SEAL Team 7.
In the company of Navy SEALs, Jace "Mac" Mackenzie was in his physical element. Now he's on the run from the same cabal that poisoned Amy's children. That doesn't stop him from launching a mission to bring down the NRO—and find an antidote. But the clock is ticking. And as the sparks fly between him and Amy, Mac realizes he has more to lose than ever before.
As Mac closes in on the NRO, he uncovers a plot that threatens more than Amy's children. Now it's a race against time to stop a global conspiracy, save the woman he loves, and protect the family that's starting to feel like his.
If you'd like to discuss Ember, or any of my other books, with Red-Hot SEAL fans, come join us at The Red-Hot Reviewers! 
Members of my RHR group get first dibs at breaking news, advanced reader copies of my upcoming books, exclusive (often cut) content and lots of swag. 😊
One thing I need to mention, since this news never made it into the back of Forged in Ember—is that Wolf's and Jillian's love story will continue through my upcoming Shadow Warriors series. Jillian is still too broken by the end of Ember to open herself to a new love, and relationship. Look for this series to launch in early 2019.
The Red-Hot SEALs series is best read in order as the plot arcs across all four books. If you haven't read the first three books yet, click on the covers to get them:
No Comments