Upcoming Book News!
Posted Mar 1 2018, 2:32 pm
It's been a long time since I posted here, but I have news!
First off, Bound by Deception, the third book in my Bound by series will release on March 30th. Those of you who read Bound by Temptation will recognize Deception's hero. Rio played a role in Lucas and Emma's romance. So, it's only fair that Lucas, Emma and Cuddles play a role in Rio and Becca's romance. 😊
Here's the blurb and cover for Bound by Deception.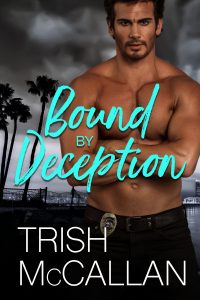 He broke her heart. She twisted his mind. But in this game of love, nothing is quite as it seems…
Rebecca's life is haunted by unexpected tragedies. Her lover left her when she least expected it, and her mother's suicide took everybody by surprise. But when a recent inheritance reveals a secret, Rebecca discovers her mother's death was actually a cold-blooded murder…
Dante "Rio" Addario swore off his irresistible ex and her web of lies 12 years ago. But the former Navy SEAL turned police detective can't ignore Becca's plea to re-open an old case. As he and his ex team up, they discover missing evidence, tight-lipped detectives, and the conspiracy that tore them apart over a decade ago…
With everything they believed thrown into chaos, Rio and Becca can't ignore their reawakened desire. But if they don't solve the case soon, the real killer may just finish the job and their love story…
Bound by Deception is the pulse-pounding third book in the Bound By series of romantic suspense novels. If you like simmering chemistry, chilling mysteries, and second chances, then you'll love Trish McCallan's twisty tale.
Buy Bound by Deception and lose yourself in this steamy mystery today!
I also have cover and blurb love for Forged in Ember! 
Check it out!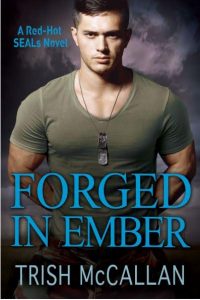 In the final novel in the scorching Red-Hot SEALs series, a desperate mother and a Navy SEAL fight fire with fire to protect their love and save the world…
Amy Chastain has made a lot of enemies—none so ruthless as the insanely powerful New Ruling Order (NRO). When they killed her husband, it was hell. Then they targeted her children by injecting them with a dangerous, experimental isotope. Now Amy trusts only one man to help her: the ex-commander of SEAL Team 7.
In the company of Navy SEALs, Jace "Mac" Mackenzie was in his physical element. Now he's on the run from the same cabal that poisoned Amy's children. That doesn't stop him from launching a mission to bring down the NRO—and find an antidote. But the clock is ticking. And as the sparks fly between him and Amy, Mac realizes he has more to lose than ever before.
As Mac closes in on the NRO, he uncovers a plot that threatens more than Amy's children. Now it's a race against time to stop a global conspiracy, save the woman he loves, and protect the family that's starting to feel like his.
1 Comment